It's the holiday season, and what better way to spend it than investing in you? Lots of people look for love during the holiday season. It could be the fact that they want that family setting they have been looking for, or it could just be that they want someone to spend the holidays with. being alone on the holidays is not a bad thing, but it really is a drag. Take it from someone who has spent the last decade alone. Although the time that I spent investing in online dating gave me hope. Having hope is monumental…hope for a new life that includes that special someone.
Try to keep your spirits high by having that hope. Although hope alone is not enough. I've said this time and time again in my other posts, you have to put in the work. Finding that special someone is not the easiest thing in the world to do. I've been trying off and on for over two years now. I've had relationships, but they, for one or another reason, didn't work out. I said that to say this: I'm guilty of not putting the work in like I should have from the beginning. I tried to shortcut the process and I got what I gave.
I guess I would say that I'm not giving up hope. It's what keeps me going…but I am going to take a break from online dating for a while. I think it's a healthy choice and I would imagine that like anything else, one can get burned out on it. I do plan to explore my options with online dating once I'm ready again. Of course, this doesn't mean you should give up or drop out. I tried for years before deciding to take a break so don't see this as giving up after a few problems. This is more about me recognizing that right now, taking a break will be better for me in the long run.
In fact, mow is the perfect time for online dating. The number of people that try online dating increases in holiday months and that number will explode in January with lots of resolutions driving people to online dating. This increase in interest can work out in one's favor. The more people online the more opportunity for a date, and possibly meeting the love of your life.
Online dating in December is always a fun time to see what new profiles there are. People are generally happy around the holidays and that's a plus in the online dating world. Think of all the possibilities for good dating ideas. Not only the standard coffee date but anything that has to do with the holidays. Remember most people are already in a good mood for the holidays. If you could show them a special time with a holiday theme you'll be on the fast track to a great date. Sled riding comes to mind and hot coco, caroling, the possibilities are endless.
What a wonderful new year to look forward to if you do find that special someone. New Years Eve then into Valentines Day. And if it's right one, a wonderful new start to a new life with the one person you've been looking for. Let's dream for a minute: imagine meeting the perfect match and being able to tell the story of how you received the greatest gift for the holidays. You could one day bore your children with the story of how you met during the holiday season through online dating. Wouldn't that be a nice tradition?
Holidays can sometimes be lonely and challenging for people. No one wants to be alone at this time of the year…or any time of the year for that matter. Spending time with family and friends on the holidays is what it's all about. I would have to say without a doubt, some of my best memories are of the holiday times. Getting together with friends at holiday parties are so much fun. Spending time with your loved ones makes life worth it. Having someone to enjoy those times with you just enriches one's life.
I would say that you can start over this new year with a new drive and attitude toward online dating. Let's start the new year off with a fresh look at online dating. If you haven't met that someone special what can you do this year to change that? Having a plan is key to online dating. Knowing what you want is essential. You can find many helpful tips and ways to improve your online dating experience with Brad's free online dating guide. It helps with everything from building a profile to how to handle dates.
Going through the motions alone won't get you very far with online dating. Having a positive attitude and putting in the effort will yield results. So maybe last year of online dating didn't go so well for you. Online dating is not for everyone, but it has its good qualities. Some people don't like the dating scene. Bar's are crowded and loud, and not for everyone. Online dating gives you more options to "shop" who you're looking for.
Let's say you tried online dating and it just isn't for you. Or maybe you're like me where you appreciate online dating but need a break. What did you take away from it? For me, it was the fact that I got to know myself better and know what I want in a partner. I think that the last two years of online dating has made me a better communicator. It's giving me a better perspective on how to interact with the opposite sex. Overall I think it has been a great experience and one worth pursuing.
I wish you all the best of luck this holiday season and hope that you find that special someone you are searching for. The magic of the holidays can be found by making the magic happen. Get out there and pursue your happiness! You never know the next match could be the one that you've been waiting for. Happy holidays to you and your's and may this be the best year of your life. Thanks for reading and as always good luck with your online adventures.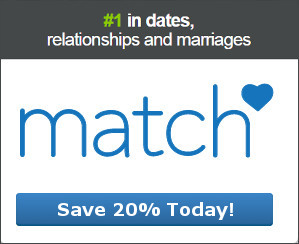 Share
10

DEC