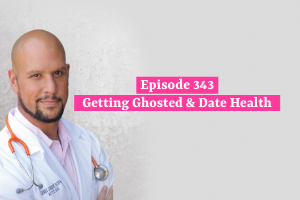 Getting Ghosted & Date Health
PROTECT YOUR HEALTH
Dr. James Simmons of Ask the NP joins Damona to talk about how to stay healthy dating in the time of Covid, ways to reduce your risk of Super Gonorrhea, and de-stigmatizing mental health. Damona covers headlines: Behind the scenes advice on Drew Barrymore getting ghosted and 21 ways to get your flirt on in 2021. Then in Dear Damona she covers listener questions: Has everyone forgotten how to communicate these days and should you give him a third chance if he's canceled twice before?
Follow James at AsktheNP
Ok Cupid expects 25 million new matches to be made this January – a big increase from last year⁠. Are you missing out? Download OkCupid today!
Try Magic Spoon: Take $5 off your first order of the healthy cereal that's too good to be true – Magicspoon.com/dates
Get The Dating Secret – Registration is open through January 20th at thedatingsecret.com
Leah Schell2021-01-14T04:39:43+00:00